Gluneo Lite Blood Glucose Meter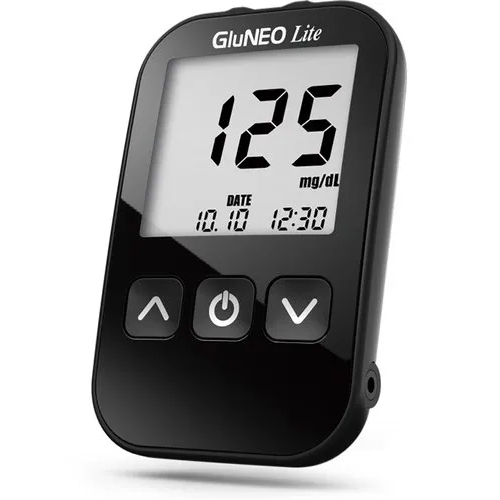 Gluneo Lite Blood Glucose Meter
Price And Quantity
Product Specifications
Battery

1000 Running Test
Black

Safe to Use Easy To Operate
Product Description
The concentration of glucose (sugar) in the blood is measured using a blood glucose metre, sometimes referred to as a glucometer or blood sugar metre. People with diabetes frequently use it to keep an eye on their blood sugar levels and make decisions regarding their diet, medications, and general diabetes management.
Following are some essential details concerning blood glucose metres:
Testing Procedure: A small sample of blood is normally taken to evaluate blood glucose levels by lancing the skin on the fingertip or another suitable location. The test strip is then put into the metre once the blood sample has been applied to it. The metre examines the blood sample and shows the blood's glucose level on the screen.
Accuracy: Although blood glucose metres are made to offer precise and dependable readings, there is some variation in accuracy. It's crucial to pick a metre that complies with the necessary requirements and has had its accuracy verified. Consistent calibration and quality control procedures can help guarantee accurate results.
Memory and Display: Blood glucose metres come with a display screen that shows the glucose levels. Depending on the nation or location, the screen may display the glucose value in milligrammes per deciliter (mg/dL) or millimoles per litre (mmol/L). Some metres offer a memory feature that lets you keep track of previous glucose readings.
functions and connectivity: Contemporary blood glucose metres may come with extra functions including the capacity to compute the average blood glucose levels over a predetermined time period, send test reminders, or even sync data with a smartphone or computer for simpler tracking and analysis. Some versions might support Bluetooth or other wireless connectivity options.
For accurate readings from blood glucose metres, suitable test strips and lancets are required. To maintain compatibility and accuracy, only use the particular strips and lancets advised by the meter's manufacturer.
Coding: To match the test strips with the metre, the user must manually code some blood glucose metres by entering a code or inserting a coding chip. This process guarantees precise calibration. However, newer models don't require human coding because they have no-coding or auto-coding capabilities built in.
Size and Portability: There are many different shapes and sizes of blood glucose metres, from small, pocket-sized models to larger ones with more functionality. For people who need to carry their metre with them for frequent testing, portability is a crucial factor.
Accessibility and Availability: Pharmacies, medical supply shops, and online retailers all stock blood glucose metres and the related test strips. The cost of blood glucose monitoring equipment may be covered or subsidised by some healthcare systems or insurance programmes.
Following the recommendations for proper use, upkeep, and calibration of the blood glucose metre given by their healthcare provider and the metre maker is crucial for diabetics. People with diabetes can effectively control their condition and make decisions about their lifestyle and medications with the support of routine blood sugar monitoring.
Trade Information
Cash in Advance (CID)

100000 Per Month