PF Plus 10Litre Hand Sanitizer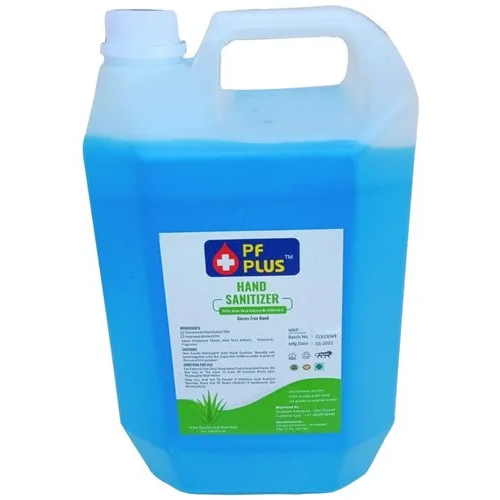 PF Plus 10Litre Hand Sanitizer
Price And Quantity
Container/Containers

2500 INR
Product Specifications
Good Quality

Industrial, Commercial & Hospital
PF Plus Hand Sanitizer

Kills Germs
Suitable for All Ages

Multiple Use
Product Description
A liquid or gel-based product called hand sanitizer is used to clean and disinfect hands. It is intended to eradicate pathogens, bacteria, and viruses from the skin's surface or to stop their proliferation. When soap and water are not easily available or when additional hand hygiene is required, hand sanitizers are especially helpful.
What you should know about hand sanitizer is as follows:
Composition: The main ingredient in hand sanitizers is usually alcohol, such as ethyl alcohol (ethanol) or isopropyl alcohol (isopropanol). According to the recommendations of health authorities, the alcohol percentage is often between 60% and 95%.
Effectiveness: Many types of pathogens, including bacteria and enveloped viruses like the flu and coronaviruses, are easily killed by alcohol-based hand sanitizers. They function by deactivating microorganisms by disrupting their lipid membranes and denaturing their proteins.
Apply a suitable amount (usually a palmful) to the palm of one hand in order to use hand sanitizer properly. Rub your hands together until the hand sanitizer is dry, being sure to cover the palms, backs, fingers, and nails. About 20 seconds should pass during this process.
Limitations: When hands are clearly oily or unclean, hand sanitizers are less effective. It is advised to wash your hands with soap and water in these circumstances. Additionally, some bacteria or viruses, such the norovirus or Clostridium difficile, may be resistant to the antiseptic properties of hand sanitizers.
Hand sanitizers should only be used externally and not internally. They are flammable and ought to be kept far from heat sources and open fires. Additionally, it's crucial to keep them away from young children to avoid accidental intake.
Hand sanitizers come in a variety of shapes and sizes, including liquid, gel, foam, and wipes. To enhance the user experience, some formulations may contain moisturisers, fragrances, or other additives.
Choosing a dependable product: Look for hand sanitizers with at least 60% alcohol by volume. The active components, usage directions, and any dangers or warnings are listed on the label.
It is important to remember that hand sanitizer cannot replace routine handwashing with soap and water. The best approach to get dirt, grease, and the majority of germs off your hands is to wash them with soap and water for at least 20 seconds. When handwashing is not convenient or as an additional hygiene step, hand sanitizer should be used.
Trade Information
Cash in Advance (CID)

100000 Per Month